Seen a photo in the book panzers in Normandy, of a panther G going through Paris, couldn`t find Academy panther G [discontinued] so my panther a's colour scheme is based on this tank, used wheels and turret from Academy panther G which I had cut up for various other projects, wooden barrel and card zimmerit from piter's shop.
Zimmerit is the vertical rake type, so I turned it round to horizontal as seen on A's ,modified hull machine gun mount, and drivers vision port, too low on glacis.
Now I think their a fraction high. Engine deck, improvements, hinges, filler covers, turret cupola are resin supplied by my friend Danny. Thanks chum, and a couple of p e set's thrown in. Model is painted with tamiya acrylic's and humbrol enamel for the olive green, worn rims on inner road wheels, and contact areas on the track a mix of silver an raw umber oil paint so it 's not to bright. The tank I based this model is fairly clean, so I didn't over do wear and tear.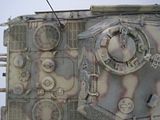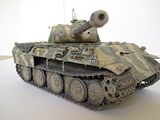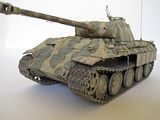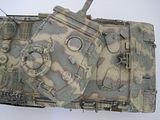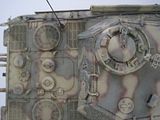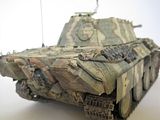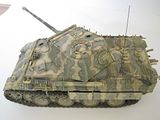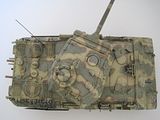 Cheers